Steve Nayar – Finalist: Wildlife Artist of the Year 2017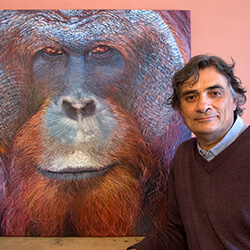 Apart from a year's foundation course in art, I am self-taught. Most of my career was spent in design and advertising, where I became a specialist in Corporate Identity.
By the mid 2000s I had a studio in the grounds of the William Morris House in Walthamstow and began to devote nearly all of my time to my first love, art. Having always been fascinated by colour-field work and abstract expressionism, it was a period of experimentation. I started to explore colour and texture, inviting the element of chance into the working process. Choice of material, paint or means of application were made through the throw of a dice or colour spinner; I used pendulums, sometimes suspended from the ceiling to drip paint or sand onto large canvases; I started to incorporate other items, torn paper, rags and straw into my works. At one point, I even created a kind of wooden loom with evenly spaced rods to run paint through oil funnels onto the canvas. I sometimes used icing bags instead of brushes. It was liberating to be free of any confines, the guiding force simply being, "let's see what happens if I do this …". During this period I encountered my first metre square canvas and the challenges it posed that eventually led to a series of heavily textured colour field works entitled 'London Squares'.
Upon moving to Devon, I started to experiment with encaustic but reverted back to oils and the metre square format for a group show entitled 'Green'. The canvas submitted was a very close-crop of my cat's face, focusing on the eyes, looking straight at the viewer, the unorthodox scale and crop was important to create impact. The piece was entirely monochromatic apart from the eyes.
Continuing the theme, I started to work on a series of canvases for a solo exhibition entitled 'Windows of the Soul.' The gallery consisted almost entirely of two long parallel, facing white walls, creating a very wide corridor and the question 'what am I going to do to fill this space?'. It occurred to me that in most galleries, people tend to drift from one piece to the next, assuming the role of observer. What if I was able to create a sense that the observer suddenly became the observed? How would that feel?
Over the course of a year, I produced 12, 1 metre square canvases for the event, of different animal faces, focusing on the eyes. I wanted the works to be not at all cutesy, but rather devices to engage, involve and elicit a reaction in the viewer. I hung them equally spaced, gazing out at eye level to their audience. It created a dramatic energy and response.
As my curiosity deepened, I started to research the plight of animals in the wild and discovered the IUCN Red List of endangered species. It occurred to me that the way I was working could help to ameliorate their plight, whilst raising awareness of these beautiful creatures. So, in 2016, I began my first painting of a Sumatran Tiger, to the same format. I also started to research organisations involved with wildlife conservation and contacted them explaining my desire to help contribute through my work. My intention being that sales would go entirely or in part to those working to save each featured animal. The subsequent images now held the added message, 'we are here because of you. We need your help.' Now, the metre square format and cropped frame acted as a leveller in affording all of the animals equal emphasis. This theme continues today as I seek a wider audience for my work.